Maine Magician gets "Two Thumbs Up!!

FOR IMMEDIATE RELEASE
December 24, 1998
© Kartik Ramamurthy, Media Relations Expert
Maine Magician gets "Two Thumbs Up!!"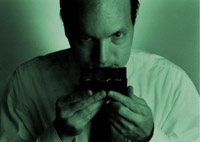 Portland, Maine – Something bewitching is brewing in the cauldron of Down East entertainer, Phil
Smith. This Portland, Maine based superstar magician has cast a friendly spell on New
England and beyond. A prolific, intriguing magician, Phil Smith is definitely in a class
of his own. His virtuoso magical skills, dexterity, and showmanship make him a "two
thumbs up", "must see" entertainer for young, and old alike.
Phil Smith's repertoire is an attention gripping combination of impressive
disappearing illusions, and mind-boggling card tricks. For years, Phil has been
entertaining audiences throughout New England. So good has been his response at social
gatherings and parties, that his booking office has been inundated with requests to
perform at major corporations.
Being a world class corporate magician has always been Phil
Smith's dream, and his wishes seem to be coming true with reckless abandon. His
client list reads like a who's who in the business world. They include Fortune 500
companies like UNUM Insurance, and Prudential; some of the leading, luxury hotels in
Maine; Portland Museum of Art; the City of South Portland; Northeastern University etc. When interviewed for this article, Phil Smith, enthusiastically elaborated his game
plan for 1999.
This New Year denotes a rapid growth phase for Phil's magical
enterprise, Abracadabra Productions. Leveraging intrinsic talent, with strong demand and
powerful testimonials, Abracadabra Productions is swiftly gaining momentum as a leader in
the realm of corporate magic. Corporations are increasingly feeling the need to beef up
the morale of their staff. Their work force attitude is in need for a catalytic boost,
especially on the heels of volatile financial markets, the fast approaching Y2K computer
challenge, and rampant downsizing.
Phil Smith's magical sojourn helps everyone from
the clerk to the chief executive, have good, clean fun. His act leaves a legacy, leading
to a memorable, and productive workweek. To reinforce the importance of workplace morale,
Phil's office frequently gets calls and letters of companies that actually got more
productivity out of their employees, as a result of Phil's magical interlude.
In the confines of a common name like Phil Smith, lurks some very uncommon talent. Phil
has been an avid magician since he was just 10 years old. Right from his early days, Phil
decided that his career was going to revolve around the mystical world of magic. He
voraciously devoured every book, course, and film on the subject. Supported strongly by
his family and friends, Phil started his journey into the world of illusions with nothing
more than a hope and a dream.
Over time his skills, technique and finesse grew, as did his audience. However, not
everything in Phil's path was strewn with success. Magic has had a limited acceptance as credible entertainment for the longest time,
especially in America. People have often associated magicians with side show acts; Since
this social stigma evolved, magicians have had a constant struggle gaining social
acceptance.
The integrity of the art form has also often been violated, even as recently
as in Fall 1998 when "Magic's Greatest Secrets", a show designed to expose
magicians' most coveted secrets aired on national television. Nonetheless, Phil Smith
has persevered as a flagship entertainer, and entrepreneur. The paradigm has shifted.
In 1998 alone, his business revenues increased 50% from the previous year. Phil Smith's magic potion has been his success formula consisting of hard work, an
extremely likeable demeanor, and courteous professionalism. Abracadabra Productions'
clients have repeatedly praised Phil's immaculate stage manners, and his good-natured
sense of humor. These quintessential attributes have created a significant demand for Phil
Smith's proprietary brand of magic.
As a Maine based entrepreneur, Phil Smith enjoys the best of all worlds- A scenic,
unadulterated geography to call home, and also a cutting edge, technological interface
into the information superhighway. Taking advantage of Portland area's high speed
internet access, and powerful media presence, Abracadabra Productions is rapidly gaining
critical mass.
Phil Smith is slated in 1999 to command a strong internet presence via an
e-commerce web site, and produce several infomercials designed for the corporate market.
He has recently retained the services of one of the country's leading marketing and
public relations firm to assist him in this process. From humble beginnings, Phil Smith has come a long way in his entrepreneurial endeavor.
His dynamic, yet simple illusions command respect from skeptics, and critics alike. His
charismatic presence, and articulate interactions, have kept audiences engaged every time
he performs.
For a tour schedule, or to have a media kit rushed to you, please call Abracadabra
Productions at (800) 964-TRIX, or log on to their web site at www.AbracadabraProd.com.

Contact Phil Today for your next Family or Corporate Event
(207) 797-7800