Don't miss out on the most popular camp !!!
July 13th to the 17th 2020 & July 20th-24th, 2020.
Only $225.00 Act Fast!!
Register early to reserve your spot. 
 Age Range for the camp is from 6 to 16!
The Wizard's Workshop as Featured on News Channel 13
For Cool Summer Camps!
WELCOME !
We are excited to be able to offer a brand new program again this year as part of our Magical Summer Camp.  Brand New Tricks! – Brand New Book – Same quality of teaching for your child – Same Location.

NEW Location …
Virtual (coming to a room near you:) )
When …
The camp will be held for one week in July – Mark your Calendars !
"The kids really had a fantastic time and enjoyed the heck out of the week. I will spread the word about it! "
Sarah Beardsley
Sarah Beardsley
A Typical day in a not so Typical Summer Camp !
Your Child will Learn …
Crafting …
As we will be building our own props to be used during the cours and the final show!
Teamwork …
Sessions will involve your child to be part of different groups, learning and helping others.
The Art of Magic …
Lessons in misdirections,timing, routining, and showmanship. Creativity and Storytelling will also be explored. Card tricks, coin tricks and even feats of mindreading will be explained in great details.
Self-Confidence …
Your child will learn public speaking in front of their peers as they are presenting their magic trick to the group. On the last day, you will be invited to see their live performance during the Grand-Gala Magic Show.
Class Schedule …
Class will be held daily from 8:00 AM until 4:00 PM
Pick up should be no later than 4:00 PM
The first and last half hour of the day will be dedicated to viewing video footage of present and past masters helping you child discover the many facets and performing style of this great hobby.
There will be a morning and afternoon break along with a lunch hour where organized games will be offered for either indoor or outdoor enjoyment depending on the weather.
Refreshments will be served during breaks, but it will be the parent or guardian's responsibility to supply lunch and snacks for the day.
The remainder of the day will be filled with exciting activities that your child will be anxious to tell you all about!
This Camp can Travel …
Just say the magic words and we can bring our magic camp to you. Wether it be for half a day, a whole day or even two, we can take the guesswork out of organizing a busy schedule and bring to your group a fun filled experience for everyone leaving you more time for other details. You can be confident that everyone will have a great time!
Meet Phil Smith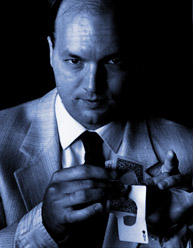 Phil Smith of Abracadabra Productions is a full time professional magician with 30 years of experience and 20 years in teaching the 'Art of Magic.' Phil's first magic courses were with Cape Elizabeth and Kennebunk Park & Rec. sessions and for the past 18 years has been teaching at the 'Festival of Creative Youth.' Phil started with a magic kit at the age of 10 and wishes that he too could have had lessons from experienced magicians like your child is about to receive! When not teaching he is busy promoting companies at Trade Shows, Open Houses, Grand Openings, and even dazzling children at their birthday parties.
Save Your Spot or Request More Information!