Wow, your special day is coming up and you want to add something unique and exciting to the cocktail hour.   Just imagine as your guests are laughing, shaking their heads in disbelief, and even clapping as a magician works the cocktail reception hours for your Wedding reception!
A wedding magician can really add to the fun as your guests are sipping on wine and/or beer and looking around the room or their tables and realizing they don't know some of any of the other table guests.   All of a sudden, a gentleman/or woman show up and start dazzling them and engaging the entire table into the fun via magic illusions!   That is the power a wedding magician can create table after table transforming that awkward silence into laughter and gasps of amazement while your guests wait for your bridal party's grand entrance.
When I worked wedding reception the last 2 New Year's Eves, the wait in line for adult beverages where long and boring so I started working the front of the line creating energy and excitement which was contagious (in a good way) all up and down the lines.  Waiting in lines for anything can be boring, my expertise is making that wait period fun.   That can include at wedding receptions from bar lines, tables with relatives and other guests you don't know or like; a magical entertainer can change the atmosphere simply by engaging everyone in a fun illusion; like making 4 different guest's cards appear in strange and incredible places from pockets to guest's ears, etc…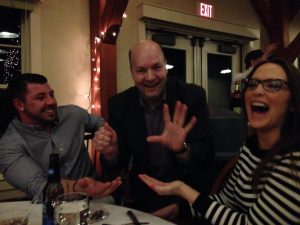 I like to do card miracles that I ask the guests and family to sign their chosen card and even write a brief message on the card which the entire pack is given to the wedding couple as a magical souvenir of their gift of magic to their guests which will be talked about for years to come!
Planning a 2019 wedding?  Call or email PHIL SMITH of Abracadabra Productions to help transform your special day from good to GREAT!  https://abracadabraprod.com/weddings/wedding-magician/