Adding something extra special to your wedding reception to keep everyone happy doesn't have to stress you out. A free happy hour of drinks is a good start, but what about those friends and relatives that don't drink?
Hiring a wedding magician is a great way to add a unique and fun spin to your wedding cocktail reception. A wedding magician can work the room while adding fun to all ages, genders, and even to those that are shy:) If you're the newly couple, imagine walking into your reception area and seeing your guests laughing, shaking their heads and having a blast. Does that sound good? Then a wedding magician is the perfect answer to your cocktail hour(s!)
I recently performed at a wedding cocktail hour up at the Mount Washington Hotel which is a beautiful location in the white mountains up past North Conway, NH. The bride & groom had a couple unique ideas:) The seating arrangements were in mini cocktail shakers and then they hired me to add the 'WOW' factor to their wedding reception.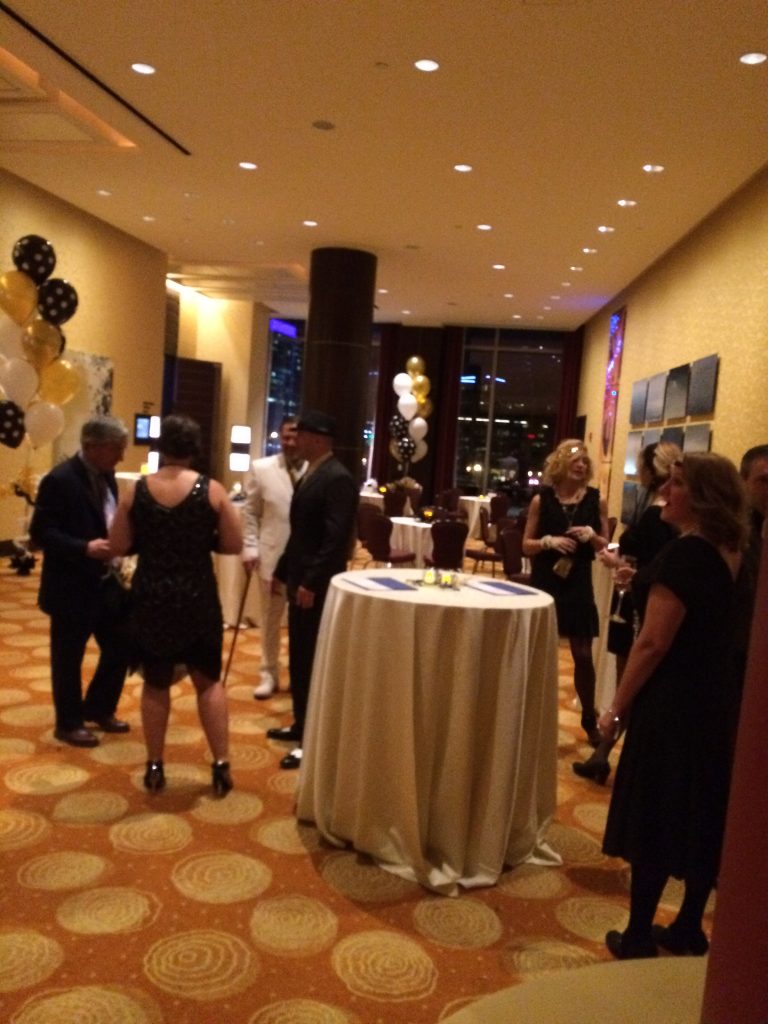 For more info to create a unique spin to your 2019 wedding receptions and rehearsal dinners visit: https://abracadabraprod.com/weddings/wedding-magician/
Magic…One of the oldest art forms in the world. The more years of practice the more experience and growth tend to fall hand in hand. Children have the ability to absorb information like a sponge. So the earlier someone learns an art the more likely they will succeed and maybe even excel at the craft!
I know when I was first introduced to the art of magic at the age of 10 with a magic kit from Marshall Brodien I was thrilled with the notion of learning something so special from another magician although, via instruction booklet & TV ads. I wished there were other magicians to talk to and work with as a budding magician:)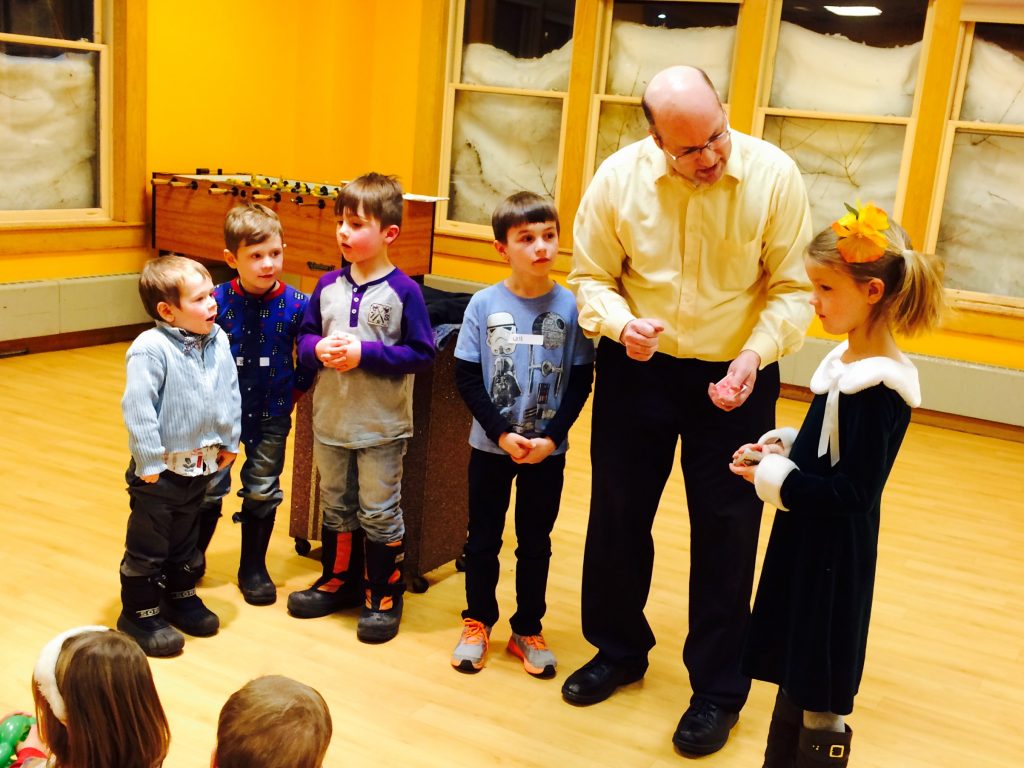 Learning magic has never been more fun!

"Great summer camp that my son requests to go to year after year. Phil is very attentive and good with him and the other kids. They put on an amazing show at the end of the week. It is interesting to see each kids twist on similar tricks. "


40 years later and now there is… Wizard's Workshop (Magic Camp) for children 6-15. This is the 16th year of running Wizard's Workshop a 1 week camp for kids to learn the art of magic.
Learning magic through a trained master/instructor of magic is the perfect way to not learn bad habits on certain techniques, being made aware of potential angle issues if people are in a certain area, and the list of benefits goes on and on.
Wizard's Workshop will be held in Portland the week of July 15th-19th, 2019. Learning times are 8:30am-4pm. The best part is your child, grandchild, niece/nephew; neighbor will put on a show on Friday to showcase their talents and how much they have learned!
The rehearsal for the show starts on Friday morning , but the preparation is all week as your child is taught theater skills to help with voice, storytelling, public speaking, problem solving all while learning the art of magic through fun interactive performances, group sessions, creativity exercises, and other skills to aid in their learning and showcase performance.
For more info on how your child can attend a cool magic camp visit:
email psmith@corporatemagician.com






Do you realize different children learn differently? They Do! Some children learn from reading, some from listening/hearing,
other's from visual, and other still from participation (hands on involvement.) Why is it important to know how you child learns? Because once you know what helps them learn you can help exhilarate their knowledge and grow in skills, information, & knowledge.
If your child is a auditory learner- then a camp/activity that is more lecture based will delight them Maybe a library/book club camp. If your son or daughter is a visual learner then watching/observing a sport camps like hockey is a great way to see how others play and emulate their skills on ice. If your child learns best through participation/hands on ..an art or perhaps magic camp would be an ideal fit.
In the magic camp I teach… each student has many opportunities to learn it hands on after watching me demonstrate the illusion. With props in hands they go to work, and most importantly for hands on learners, they later participate up in front of their peers (many steps of hands on during the learning of each magic trick!)
Do you have a child or 2 that learns best from participation? Take a peek at www.wizardworkshop.net for an exciting learning experience that will entice their hands, eyes, and minds all into a singular performance.
Learning the 'art of magic' used to be pasted down from magician to magician, if you didn't already have knowledge & skills you could not
find someone in the know to share info, ideas, and tricks with you.
Today's generation is quick to learn on Youtube a trick or two. The plus to that is its instantaneous, the downside is you might be learning/watching someone who isn't a good instructor/teacher. Or worse they teach incorrectly and you learn/practice the wrong techniques and now have to unlearn all the bad habits!
Learning any new skill or technique requires a good coach. Someone who not only can perform it properly, but can help other children learning the craft/sport, etc…how to improve upon what they are doing. A coach/instructor can make suggestions, offer creative ideas to improve their skills, knowledge, etc… that you can't gain from just watching a video. Children need that feedback that directly corresponds to what they are particularly doing well, or need to change so they can perform it well!
For more information on learning magic at a magic camp.. call 1-800-964-8749 or visit: www.wizardworkshop.net
For young kids many things seem 'magical', from planes flying in the air, flowers growing each season, to their parents or grandparents pulling a coin from their ear!
Learning should be fun, and now add to the mix a topic that all kids (boys & girls) love…MAGIC!
What makes leaning magic fun? Many reasons I'll just go into a couple… the feeling of knowing a secret and performing that secret in a way that is fun, engaging, and often brings the sound of laughter and or clapping. That's a pretty powerful motivator:)
Second, that same motivation to learn something others don't know without studying and learning the craft has been utilized by many as therapy. Patients who were in accidents an needed physical therapy to strengthen and move muscles that they were having challenges using turn to magic as a therapy tool for teaching the fingers, hands, etc… to move again!
And just for the fun of performing, magic is a tool that brings the desire to learn, grow, and shine out of kids of all ages.
For more info on learning magic for children between 6-16 this July visit www.wizardworkshop.net or call 1-800-964-8749.
It's a big moment in their lives, your sons or daughters have just graduated high school or even college. You want to celebrate that moment with them; so it's a party.
Do you make a theme to the party; for example a Hawaiian theme with lei's, pineapple drinks, etc… or keep it simple with a BBQ? It all depends on your mood and time.
Food can be tied into the theme; chicken on the grill, burgers, or Hawaiian pizza:)
When it comes to entertaining the seniors or college graduates you want something everyone loves… a magician! Not a kid's magician pulling bunnies from a hat, but a magician who works their high school events and relates to them. I'm talking about a sleight-of-hand illusionist!
An illusionist that will roam and mingle with your guests, while dazzling graduates with jaw dropping illusions of the mind or even in your hands!!!
For more ideas visit: http://www.abracadabraprod.com/graduation.html or call 1-800-964-8749.
As parents we are always looking for new skills, building blocks that we can help our children learn and master.
We want a mix of challenging skills, educational values, and fun during and throughout the process!
Finding a common mix of all 3 is difficult, but not impossible…maybe we just need a little magic! 🙂 Enter Wizard's Workshop to help your child
grow in many different skill sets that can be carried over to school and life!
Wizard's Workshop is a magic camp that focuses on increasing creativity, improving public speaking, hand/eye coordination, and people skills! All of
these are achieved, worked on,experimented on through magic tricks and illusions. Magic is the fun tool that is used to harness all the other skill
sets.
One illusion might challenge each student in different ways; for example, making a coin disappear can be a challenging skill using sleight-of-hand
which then combines the hands and eyes to work in unison so the illusion is camouflaged. One student might find this easier, but then speak to quietly so no one can hear him or her…so I might add the elements of storytelling to get them excited about the story which then they are more focused on their pitch, projections, and pacing/rhythm.
Are your children looking to learn a new skill that you and they both love? check out www.wizardworkshop.net
For more info call Phil Smith at 207-797-7800.
Wizardly,
PHIL
For the newly weds that are planing their weddings and receptions in Maine, New Hampshire, & Massachusetts in 2013 congratulations:) You have spent time and money planning the location, photographer, florist, and reception location. Have you thought about ways to make the wait for the bridal party arrival to the reception fun?
Think about all the wedding receptions you've attended and as the bride and groom it's not your turn to get those special bridal party & family photos perfect, but you don't want to make your guests wait to long either. A magician, roaming the cocktail hour is the perfect addition to keep your
guests engaged and best of all make the time fly by faster than you can say…'Abracadabra!'
At all weddings, even your own there will be many guests that are shy and don't know many of your family and friends, a magician can connect and make it fun for all of your guests with sophisticated sleight-of-hand illusions. Whether your reception is at the Colony or Nonantum resorts in Kennebunkport, Maine or Wentworth by the Sea in New Castle, New Hampshire to the Marriott at Sable Oaks in South Portland, Maine… your guests will remember your extra
special attention to adding something unique, exciting, and fun for your cocktail reception hour!
For more info, call Phil Smith at Abracadabra Productions 1-800-964-8749.
A company's best resource is their employees! The knowledge, skills, and work ethics they bring to the workplace creates a stronger company.
During the holidays is the perfect time to thank them for all their hard work. The question becomes how might you thank them?
Use your creativity and perhaps do the 12 days of Christmas theme and give the office 12 days in Dec. gift certificates to their favorite coffee
house, have breakfast catered, perhaps give them a half day off, and have some entertainment brought in to liven up the office party.
I've seen offices bring in carolers (professionals is the best route), comedians, I've worked hundreds of holiday office parties to add the 'Magic of the Holidays'
while creating laughter, smiles, and fun…the best kind of gift is something the majority of your employees will appreciate and enjoy! Magic has a universal
appeal so why not add a little holiday magic this 2012 for your employees!
For more info http://www.corporatemagician.com/holiday.html
Call Phil Smith of Abracadabra Productions to add him to your office party this 2012 season at -1-800-964-8749.
Halloween is a time for ghost, witches, goblins, wizards (Yes, Harry Potter), and magicians! I was reminded how much magic really goes with Halloween
as I drove through Salem, MA yesterday for a birthday party! Most of the stores even had magical or witch names to them:)
Halloween parties put on by the community fire departments to private neighborhood parties all need an element of fun to engage children or adults alike.
A roaming magician/mind reader is the perfect addition to and adult Halloween party. A few brief moments of stunning illusions performed right under their noses is just the ticket into transforming your party into something special and unforgettable.
For children, the games could even be of a magical nature…pin the wand on the wizard's hand, buy little magic tricks at the local book store, party store,
or better yet hire a professional magician to come in and teach the children a magic trick!
For more creative Halloween party ideas..call Abracadabra Productions at 1-800-964-8749.