Jan-March is the time of the year that cub scouts, Webelo's, & boy scouts all celebrate and hold their award banquet know as a Blue & Gold Banquet. The challenge pack leaders run into is how to keep 25-50 scouts and their families all entertained and engaged? A magician is the perfect choice to help make the banquet, more fun, energized, and engaging.
A magician with experience in family and children events is the key to a good program. If budgets allow he/she might even have a customized show for scouting. The scouts are at the banquet to accept their badges, pins, and awards…but a magician is an award for all the scouts yearly achievements!
Parents work hard getting their children to the meetings and working on merits to earn their badges; cooking, safety, camping, the list is endless. And at Blue & Gold banquets everyone contributes by bringing some food to share; a pot luck dinner. (My favorite part)
I like to warm the family's and scouts up to me by doing a quick illusion at each dinner table. Imagine, a magician going table to table adding some fun surprises like pulling silver from a fork. Or bending a fork and then making it magically unbend! A good magician will add surprise elements to a Blue and Gold banquet even before the big show.
If you are looking for ideas for your 2020 Blue & Gold banquet or want to have me check my availability for your pack's special event visit: https://abracadabraprod.com/just-for-kids/scouting-event-entertainment/
Schools are starting up all over New England and fall fairs and festivals are on the way.   PTO's are planning harvest festivals and Halloween fairs to kick off the beginning of school's first trimester.  Lining up parent volunteer's for baked goods, running the games and making the cotton candy are all part of making sure students of all ages will have a good time.
Themed to fall/harvest for early Oct. school fairs or late Oct. for a more Halloween themed festival are all options depending on timing, planning, and enough volunteers.  Fall harvest might include hayrides, outdoor games like toss the ring on a milk can, bean bag toss, or throwing darts at balloons.   Halloween themes allow for costume parades, dunking for apples, haunted mazes and houses.
To really make these fairs and festivals come alive live entertainment is a great addition!  Balloon twisters, face painters and of course magicians.  Many of the school fairs that I perform at use my talents in 2 ways; roaming magic or as a show.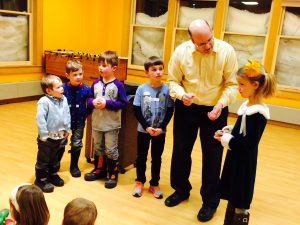 A Strolling/roaming magician can add the 'wow' factor wherever there are groups of students; waiting in lines for cotton candy, lines for balloon twisting, or just for the fun of live magic entertainment.
My Show is often the highlight of school festivals and fairs; it can be themed to 'the Magic of Reading' , teamwork (students working together), Halloween, or as a fun part of the draw to bring parents and families to the school event.  My show includes illusions, comedy, mind reading, juggling, student participation, and a live rabbit makes her appearance!
Call or email me with questions, brainstorm on entertainment ideas, or to check my availability for your NEW ENGLAND school fair or festival in 2018/2019.
https://abracadabraprod.com/just-for-kids/school-events-entertainment/
Once a year around the months of February & March scout dens and packs celebrate their awards and achievements that individual scouts have earned by completing goals for each badge.
It's a great time to see what other scouts are doing, share stories, and perhaps get involved to help your child and others learn different activities, games, and fun times.
There is no better way to celebrate than to have a magician come in and add to the festivities! Families share their potluck dinners, scouts are running around the gym, church, etc… A professional magician can settle them all down, add to the program, and maybe even educate the scouts
on some of the topics they have been learning all year: Teamwork, trust, BE PREPARED, etc…
Magic is a natural fit for families and scouts while celebrating their special event. I have had the pleasure of competing against my rabbit on the theme BEING PREPARED, had scouts work on juggling via teamwork, and lots of other surprises that I would love to share with your next Blue & Gold banquet in 2018.
For more info visit: https://abracadabraprod.com/just-for-kids/scouting-event-entertainment/
It's that time of year again, Spring is in the air, schools are coming to and end for summer and many students will be graduating high school and college.
Your throwing them a party;  guest list, food (maybe catered so you can enjoy the party too), and then what?   How about something that make the party more than just another gathering… what about a magician roaming/strolling and mingling with the graduate, friends and family.   Imagine as your making a beer disappear and the magician comes up and makes a silver dollar appear from your beer bottle, or a selected card is found by one of our five senses, these are just a few scenarios of how a Strolling Magician can enhance the festivities and make your graduation party something everyone will remember for years to come.
For more info, ideas, or to schedule your graduation party… e-mail Phil at psmith@corporatemagician.com
Wedding vendors and professionals come in different shapes and sizes (experience, pricing, knowledge, etc..) One of the most important vendors you can hire is your photographer! Why, because its the memories solidified in a form (a picture) that captures those special moments; the looks, the fun, and something you'll want to remember for the rest of your lives. I interviewed one of Maine's top photographers and hopefully asked some
good questions you'd want them to answer for you.
Why should someone hire you & Nadra over other photographers? The people who hire us again and again are the ones who are planning a Maine destination wedding and they want to feel confident that they are hiring a competent professional — someone they can trust to not miss a moment and capture them authentically, someone who will make them relax and feel comfortable to be themselves in front of the camera, someone who will guide them to stand in such a way that is natural, and believable. But most importantly, the folks who hire us are people who really value photography and they want more than just a photographer, they want an artist who will create images that are thoughtfully and beautifully centered on them and their closest relationships.
What would you say to brides/grooms that say …oh we'll leave disposable cameras on each table & no pro? We'd say, good luck! In all seriousness though, there will be a lot of things at your wedding that will probably go "wrong" or not according to plan that you can look back and laugh at later, but one thing you can't laugh at after the fact is your wedding photography. If you hate your wedding photography, that is a sad thing indeed. According to a recent study, the number one regret brides have after the wedding? Not spending more on their photographer. True fact!
What should brides/grooms ask for when choosing a photographer? We think it's important to see a sample from an entire wedding, and not just the highlights. Look for consistency in lighting, composition, and quality throughout. But probably the most important thing is to look at the images and ask, "Can I see myself in these images? Does it feel like me? Does the posing look believable, or is it fake? What about my closest relationships? Are they documented in the images, or is mostly just photos of the bride and groom, and all of the details? We think asking these questions will get you off to a good start!
I'm sure I'm just scratched the surface on questions and requests to ask Leigh & Nadra…visit their site for more info here:
Holiday Parties are a terrific way to thank co-workers and clients for their hard work and business throughout the year.
How do you make it more than just another party?Food, Location, and entertainment are the main ingredients. If you are having food is it a focus? Casual or elegant and gourmet? Maybe having many different appetitizers is one creative way to go. Having the catererer offer some sample menus; maybe steak, chicken, and fish are offered but to jazz it up different dipping sauces are whipped up.
Location, location, location…a glamorous banquet facility, or creative spin like a museum (antique cars, science, etc…) The banquet location can be decorated to a theme (Hawiian, winter, etc)
Last, and maybe most important entertainment that is memorable. Music will it be background or dancing? What about a creative opening to your cocktail social hours by having a magician roam/stroll and mingle with your employees and clients?! Or a fun after dinner performance of magic and comedy?!
Whatever you do make it memorable!
Magically,
Phil