Schools are starting up all over New England and fall fairs and festivals are on the way.   PTO's are planning harvest festivals and Halloween fairs to kick off the beginning of school's first trimester.  Lining up parent volunteer's for baked goods, running the games and making the cotton candy are all part of making sure students of all ages will have a good time.
Themed to fall/harvest for early Oct. school fairs or late Oct. for a more Halloween themed festival are all options depending on timing, planning, and enough volunteers.  Fall harvest might include hayrides, outdoor games like toss the ring on a milk can, bean bag toss, or throwing darts at balloons.   Halloween themes allow for costume parades, dunking for apples, haunted mazes and houses.
To really make these fairs and festivals come alive live entertainment is a great addition!  Balloon twisters, face painters and of course magicians.  Many of the school fairs that I perform at use my talents in 2 ways; roaming magic or as a show.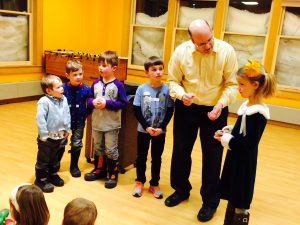 A Strolling/roaming magician can add the 'wow' factor wherever there are groups of students; waiting in lines for cotton candy, lines for balloon twisting, or just for the fun of live magic entertainment.
My Show is often the highlight of school festivals and fairs; it can be themed to 'the Magic of Reading' , teamwork (students working together), Halloween, or as a fun part of the draw to bring parents and families to the school event.  My show includes illusions, comedy, mind reading, juggling, student participation, and a live rabbit makes her appearance!
Call or email me with questions, brainstorm on entertainment ideas, or to check my availability for your NEW ENGLAND school fair or festival in 2018/2019.
https://abracadabraprod.com/just-for-kids/school-events-entertainment/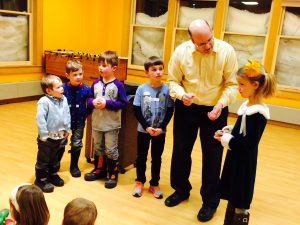 Imagine a room full of young magic camp wizard's all ready to start their journey into the world of make believe! Well as young kids isn't that what it's all about at those ages… imagination, creativity, problem solving, etc! As children we do it as we play and magic camp is all about learning life skills while playing!!
A booklet of secrets is passed to all the young wizards and the excitement in the room is electrifying. I hear the students say, "look some of the tricks involve cards, of and this one includes magic with a finger ring." I do a joint performance and mini lecture on an important topic of the day like direction and misdirection!
Several fun illusions will happen during each day and I will play games like who can sneak the paper ball into the waste can without us seeing it:) That is fun and challenging as everyone is watching but it teaches us all about eye contact and directing attention. More fun ensues as more tricks and lessons are enjoyed. As the saying goes.. time flies while you are having fun:)
For more info or to sign your children up for magic camp go to:
www.wizardworkshop.net
Are you looking for a fun camp for your child(ren) this summer?  Wizard's Workshop might just be what Harry Potter would order ! As parents we are always looking for fun and educational activities to keep our children happy and furthering their knowledge in safe environments.  Wizard's Workshop is the kind of summer camp I wish I had as a younger child to learn the skills of a young Harry Potter:)    A modern day Hogwarts to learn creativity, problem solving (how do I hide the secret move and make the illusion look real), increasing public speaking skills (part of the skills needed to stand up in front of an audience and not faint includes courage and a safe environment to make mistakes and try again.)
The 'art of magic' can help young minds meet new friends (who doesn't want to hang out with someone who knows how to do some magic tricks?!!)  Enhance a student's crafting/creativity talents to build unique items that make something look like magic.  If you want a fun and engaging day camp for 1 week in July come visit relatives in Maine and let your child experience the wonder of Wizard's Workshop:))   For more info or to register visit:www.wizardworkshop.net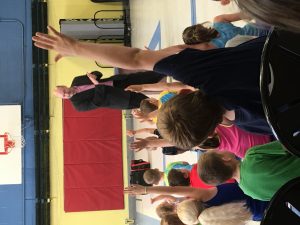 Remember when you were a kid and it was your birthday or Christmas and you opened a box that had all these amazing skills you could learn?   A red ball could travel invisibly back to an oriental looking vase, or a rope could only come out on your command, or 101 card tricks with a regular deck of cards!   After a while you didn't have someone to share that enthusiasm with or perform for (mom and dad can only pick a card so many times:))
Imagine, a class full of young magicians just like your child, grandchild, niece or nephew learning and coming home excited to show you all the new illusions they learned at a cool camp 'Wizard's Workshop' which is a Maine Magic camp.   Your child can share their ideas, enthusiasm, and challenges with others just like them learning the 'art of magic.'   And who doesn't like that feeling of being a kid again when you experienced things with wonder and not disbelief.
Sharing your skills, and new found joy with others learning the same craft is happening July 18th-22nd in Portland, Maine!  Imagine your child is one of 20 or less children receiving hands on training by an expert professional magician!  Come see why in our 13th year we still have many returning campers from numerous seasons.
For more info visit :  www.wizardworkshop.net   or e-mail psmith@corporatemagician.com for more info.
What is a mentor and why are they important?   In a world where children and adults are YouTube instructions, it's a great starting point.  However, it's just that a starting point.   When trying to learn magic tricks… you can watch and emulate another YouTube magician/trick, but you may be learning bad habits that are tough to shake off.
A mentor/expert (think of Professor Albus Dumbledore for Harry Potter) teaches the student timing, pacing, angles, and a multitude of other super important elements to make a magic trick work correctly when performing for an audience.
Someone to point out that the affect will be stronger if they slow down the pacing of an illusion can really add to the impact of the magic results!  Magic is a performing art, so having a keen eye watching and suggesting what you are doing right and encourages those strengths and then pointing out areas that need more of their time and attention is super valuable.
I teach a magic camp in Portland, Maine, but have students from all over come to join in the fun, from beginners of all ages (6-16) to those who have experience and skill but learn valuable lessons that you can't find in a YouTube video:)   Personal instruction is still the best way to learn a skill, art, or hobby.
Call or e-mail for more info at (207) 797-7800 or psmith@corporatemagician.com  
Most magicians got started with a magic kit when they were young. I was no different, I was 10 years old when I recevied mine for a Christmas present. I fell in love with it..my dad and I would work on the details together and then I'd practice. After I had several rehearsed I would put on a neighborhood magic show.
I wish I had had access to a professional magician who could have given me insight at that young age. Having an expert to tweek and improve upon what I was working on would have been an amazing experience.
I decided 8 years ago with a good magic friend, Bernard Blais to give other young kids that opportunity with a real pro…for a whole week of lessons, insight, getting their creative juices moving around in their noodles. Now in our 8th year children love our magic camp…called Wizard's Workshop! I hope to see your children there this summer!!
Bernard and I have run 'Wizard's Workshop coming up on our 8th year… Since the very 1st year we have helped children with physical or mental challeges shine thru the 'art of magic!'
Sometimes, it's coming up with different secret techniques (Hidden moves) that are more manageable for different students. Other times it's been teaching it in many different ways to get the point across.
And even just refocusing those students on their favorite magic illusions from an earlier session.
Each child is different in skill, creativity, and execution during a performance. That's the magic of kids…you never know what the outcome will be till it's over…some students that were focused, but shy become hams during the show for their parents. Others might run into a minor challenge and because it hadn't happened in practice or rehearsals it can be very unnerving. But when the individual performances are completed and the show is over their new skills in public speaking have become sharper, confidence is gained, and the smiles on their parents faces say it all…Now that's magic!
Learning the 'Art of Magic' can be tricky business. In the past, learning the secrets of magic could only be learned through the passing of knowledge from one magician to another. Often, we learn thru books sometimes the internet, but the absolute best way has always been thru a professional magician.
Why reading a book or watching a computer screen only goes so far..there is no feedback.
A magic camp is a wonderful place to learn, grown, get advice, see peers practicing, struggling with similar challenges, and succeeding after practice! I teach illusions that are visual, magic tricks that include mind reading (watch out parents, ha,ha), magic card tricks, coin illusions, and many more surprises! By the end of 1 week they are ready to put on a small show for parents, siblings, and relatives that want to see improved communication skills, creativity, and problem solving skills.
More secrets revealed later on how to become a magician!
My son is 5 years old and everything he does is magical. He has autism so every gain (new word, new activity, social interaction..is magical!!!) As I mentioned in an early post he goes to an amazing school in Portland ' All aboard Preschool' which is focused on educating autistic children. I highly recommend it to any and all parents.
Just in the last couple days he has really taken on an interest in magic…he is watching me and trying to emulate my actions (very amazing and amusing.) He took cards up in his hands and was moving them around trying to change them or make them disappear…and the really cool part was he said "Watch" very dramatically. I can't wait to see what's next (maybe he'll make a rabbit appear:)
Magically yours,
Phil Smith
My son is an amazing boy who has autism and goes to the All aboard preschool at Easter Seals.  The teachers, directors, and staff are all wonderful and help each child grow to their real potential.
I often perform magic and make crayons, coins, etc… disappear and reappear behind my son's ears.   One day at 'All Aboard Preschoól'  the teachers were telling me of how my son was hiding crayons up his sleeve:)   A funny scenario because I don't hide items up my sleeve…so somehow his mind created a hiding place that all laymen assume magicians use to our advantage.
The teachers thought it was hilarious knowing I'm a magician and he was hiding crayons up his slleeve.   What's next he uses mirrors to create illusions:) !!