It's getting closer to graduation for seniors…thinking about proms, caps and gowns, and after graduation parties called Project Graduation.  These are amazing celebrations set up by parents to keep their children safe (it's a chem free party.)
Interactive entertainment like a hypnotist or a roaming magician are almost always the top 2 requested and loved entertainers!  It's because we are engaging the seniors into the fun and they get to be a personal part of the performances.
Having entertained for more than 20 years at over 200 project graduations I have seen lots of fun activities and entertainment (not to mention the food) to keep seniors from approximately 7pm-5am the next morning in a safe and fun environment with their peers.
The hypnotist uses the group and they get to see a handful of their friends fall under hypnosis which the participation is a big hit.
Illusionist like myself that have engaging sleight-of-hand that can be active in almost any situation; I've worked the lines from seniors waiting for temporary tattoos, to cartoon portraits, to sitting with friends like eating or having an ice cream break!  I can work the room moving from small groups to small groups.   However, as word spreads about the stunning illusions I am performing often I am surrounded by over 50 seniors cheering and freaking out!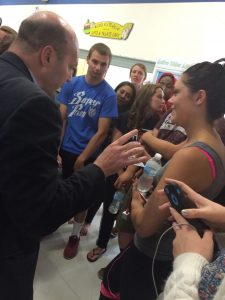 Activities like bouncy races, games, are fun games that allow seniors to spend as much or as little time as they choose to amuse themselves.
For high schools that are still looking for ideas, call or email me or visit my site to see why I am one of New England's hottest entertainers each year!  I would love to help your school and seniors have a fun and safe night!!