Schools are starting up all over New England and fall fairs and festivals are on the way.   PTO's are planning harvest festivals and Halloween fairs to kick off the beginning of school's first trimester.  Lining up parent volunteer's for baked goods, running the games and making the cotton candy are all part of making sure students of all ages will have a good time.
Themed to fall/harvest for early Oct. school fairs or late Oct. for a more Halloween themed festival are all options depending on timing, planning, and enough volunteers.  Fall harvest might include hayrides, outdoor games like toss the ring on a milk can, bean bag toss, or throwing darts at balloons.   Halloween themes allow for costume parades, dunking for apples, haunted mazes and houses.
To really make these fairs and festivals come alive live entertainment is a great addition!  Balloon twisters, face painters and of course magicians.  Many of the school fairs that I perform at use my talents in 2 ways; roaming magic or as a show.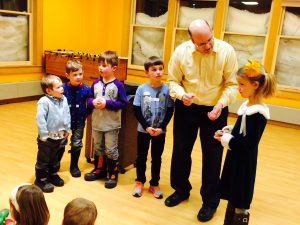 A Strolling/roaming magician can add the 'wow' factor wherever there are groups of students; waiting in lines for cotton candy, lines for balloon twisting, or just for the fun of live magic entertainment.
My Show is often the highlight of school festivals and fairs; it can be themed to 'the Magic of Reading' , teamwork (students working together), Halloween, or as a fun part of the draw to bring parents and families to the school event.  My show includes illusions, comedy, mind reading, juggling, student participation, and a live rabbit makes her appearance!
Call or email me with questions, brainstorm on entertainment ideas, or to check my availability for your NEW ENGLAND school fair or festival in 2018/2019.
https://abracadabraprod.com/just-for-kids/school-events-entertainment/