Are you looking for a fun camp for your child(ren) this summer?  Wizard's Workshop might just be what Harry Potter would order ! As parents we are always looking for fun and educational activities to keep our children happy and furthering their knowledge in safe environments.  Wizard's Workshop is the kind of summer camp I wish I had as a younger child to learn the skills of a young Harry Potter:)    A modern day Hogwarts to learn creativity, problem solving (how do I hide the secret move and make the illusion look real), increasing public speaking skills (part of the skills needed to stand up in front of an audience and not faint includes courage and a safe environment to make mistakes and try again.)
The 'art of magic' can help young minds meet new friends (who doesn't want to hang out with someone who knows how to do some magic tricks?!!)  Enhance a student's crafting/creativity talents to build unique items that make something look like magic.  If you want a fun and engaging day camp for 1 week in July come visit relatives in Maine and let your child experience the wonder of Wizard's Workshop:))   For more info or to register visit:www.wizardworkshop.net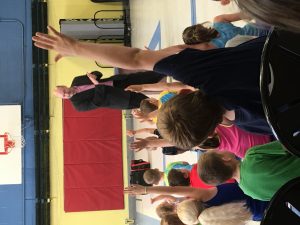 It's getting closer to graduation for seniors…thinking about proms, caps and gowns, and after graduation parties called Project Graduation.  These are amazing celebrations set up by parents to keep their children safe (it's a chem free party.)
Interactive entertainment like a hypnotist or a roaming magician are almost always the top 2 requested and loved entertainers!  It's because we are engaging the seniors into the fun and they get to be a personal part of the performances.
Having entertained for more than 20 years at over 200 project graduations I have seen lots of fun activities and entertainment (not to mention the food) to keep seniors from approximately 7pm-5am the next morning in a safe and fun environment with their peers.
The hypnotist uses the group and they get to see a handful of their friends fall under hypnosis which the participation is a big hit.
Illusionist like myself that have engaging sleight-of-hand that can be active in almost any situation; I've worked the lines from seniors waiting for temporary tattoos, to cartoon portraits, to sitting with friends like eating or having an ice cream break!  I can work the room moving from small groups to small groups.   However, as word spreads about the stunning illusions I am performing often I am surrounded by over 50 seniors cheering and freaking out!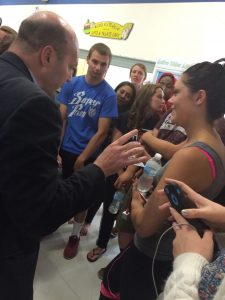 Activities like bouncy races, games, are fun games that allow seniors to spend as much or as little time as they choose to amuse themselves.
For high schools that are still looking for ideas, call or email me or visit my site to see why I am one of New England's hottest entertainers each year!  I would love to help your school and seniors have a fun and safe night!!
Once a year around the months of February & March scout dens and packs celebrate their awards and achievements that individual scouts have earned by completing goals for each badge.
It's a great time to see what other scouts are doing, share stories, and perhaps get involved to help your child and others learn different activities, games, and fun times.
There is no better way to celebrate than to have a magician come in and add to the festivities! Families share their potluck dinners, scouts are running around the gym, church, etc… A professional magician can settle them all down, add to the program, and maybe even educate the scouts
on some of the topics they have been learning all year: Teamwork, trust, BE PREPARED, etc…
Magic is a natural fit for families and scouts while celebrating their special event. I have had the pleasure of competing against my rabbit on the theme BEING PREPARED, had scouts work on juggling via teamwork, and lots of other surprises that I would love to share with your next Blue & Gold banquet in 2018.
For more info visit: https://abracadabraprod.com/just-for-kids/scouting-event-entertainment/
It's that time of year again, Spring is in the air, schools are coming to and end for summer and many students will be graduating high school and college.
Your throwing them a party;  guest list, food (maybe catered so you can enjoy the party too), and then what?   How about something that make the party more than just another gathering… what about a magician roaming/strolling and mingling with the graduate, friends and family.   Imagine as your making a beer disappear and the magician comes up and makes a silver dollar appear from your beer bottle, or a selected card is found by one of our five senses, these are just a few scenarios of how a Strolling Magician can enhance the festivities and make your graduation party something everyone will remember for years to come.
For more info, ideas, or to schedule your graduation party… e-mail Phil at psmith@corporatemagician.com
Remember when you were a kid and it was your birthday or Christmas and you opened a box that had all these amazing skills you could learn?   A red ball could travel invisibly back to an oriental looking vase, or a rope could only come out on your command, or 101 card tricks with a regular deck of cards!   After a while you didn't have someone to share that enthusiasm with or perform for (mom and dad can only pick a card so many times:))
Imagine, a class full of young magicians just like your child, grandchild, niece or nephew learning and coming home excited to show you all the new illusions they learned at a cool camp 'Wizard's Workshop' which is a Maine Magic camp.   Your child can share their ideas, enthusiasm, and challenges with others just like them learning the 'art of magic.'   And who doesn't like that feeling of being a kid again when you experienced things with wonder and not disbelief.
Sharing your skills, and new found joy with others learning the same craft is happening July 18th-22nd in Portland, Maine!  Imagine your child is one of 20 or less children receiving hands on training by an expert professional magician!  Come see why in our 13th year we still have many returning campers from numerous seasons.
For more info visit :  www.wizardworkshop.net   or e-mail psmith@corporatemagician.com for more info.
What is a mentor and why are they important?   In a world where children and adults are YouTube instructions, it's a great starting point.  However, it's just that a starting point.   When trying to learn magic tricks… you can watch and emulate another YouTube magician/trick, but you may be learning bad habits that are tough to shake off.
A mentor/expert (think of Professor Albus Dumbledore for Harry Potter) teaches the student timing, pacing, angles, and a multitude of other super important elements to make a magic trick work correctly when performing for an audience.
Someone to point out that the affect will be stronger if they slow down the pacing of an illusion can really add to the impact of the magic results!  Magic is a performing art, so having a keen eye watching and suggesting what you are doing right and encourages those strengths and then pointing out areas that need more of their time and attention is super valuable.
I teach a magic camp in Portland, Maine, but have students from all over come to join in the fun, from beginners of all ages (6-16) to those who have experience and skill but learn valuable lessons that you can't find in a YouTube video:)   Personal instruction is still the best way to learn a skill, art, or hobby.
Call or e-mail for more info at (207) 797-7800 or psmith@corporatemagician.com  
About
Phil
Smith
the Magician….
the Illusionist….
the Comedian….
♥ The 'magic bug' bit Phil when he received a magic kit for Christmas at the age of 10. Phil's skills grew as he studied the all time great magicians such as Houdini, and trained with each free moment. He began a magic club with Woody Woodward.
♣ Phil received a BA in theatre and trained with visual comedian/juggler, Randy Judkins in Mime and juggling. He worked his first venues at church socials and birthday parties. Young children, families, and adults have been delighted with his shows. He has been making great memories that last lifetimes.
♦ Shows have included energetic performances at peoples' homes and at LLBean, Portland Pirates Stadium, Maine Mall, and the Portland Sea Dogs Field. Further, he has been creating magical experiences by performing at wedding receptions and rehearsal dinners.
♠ After training with world renowned magician, Jeff McBride, and many other stars, Smith went on to win Best Magician in Maine, several times. Phil has been combining expert sleight-of-hand skills with mime, clowning, juggling, and slapstick humor for many years. It all adds up to fun energetic performances for Phil's audiences.
In you're interested in hiring a magician, illusionist and comedian in
Maine,
New Hampshire or
Massachusetts; that will awe your
guest and delight both young and old, Phil Smith is your guy.
Phil is available for all events including:
Weddings
Kids Parties
Corporate Events
House Warming Parties
Clam Bakes
Blue & Gold Banquets
Brownie Events
Bat Mitzvahs
Brainstorming Sessions
Anniversary Parties
Engagement Parties
Graduation Parties
Charity Functions
Summer BBQ
School Fund Raisers
Boy Scout Events
Girl Scouts Events
Company Meetings
Company Outings
Christmas Parties
Birthday Parties
Picnics
Anniversary Parties
Family Gatherings
School Events
Cub Scouts Events
Bar Mitzvahs
Sales Meetings
Client Appreciation
Halloween Parties
Wedding vendors and professionals come in different shapes and sizes (experience, pricing, knowledge, etc..) One of the most important vendors you can hire is your photographer! Why, because its the memories solidified in a form (a picture) that captures those special moments; the looks, the fun, and something you'll want to remember for the rest of your lives. I interviewed one of Maine's top photographers and hopefully asked some
good questions you'd want them to answer for you.
Why should someone hire you & Nadra over other photographers? The people who hire us again and again are the ones who are planning a Maine destination wedding and they want to feel confident that they are hiring a competent professional — someone they can trust to not miss a moment and capture them authentically, someone who will make them relax and feel comfortable to be themselves in front of the camera, someone who will guide them to stand in such a way that is natural, and believable. But most importantly, the folks who hire us are people who really value photography and they want more than just a photographer, they want an artist who will create images that are thoughtfully and beautifully centered on them and their closest relationships.
What would you say to brides/grooms that say …oh we'll leave disposable cameras on each table & no pro? We'd say, good luck! In all seriousness though, there will be a lot of things at your wedding that will probably go "wrong" or not according to plan that you can look back and laugh at later, but one thing you can't laugh at after the fact is your wedding photography. If you hate your wedding photography, that is a sad thing indeed. According to a recent study, the number one regret brides have after the wedding? Not spending more on their photographer. True fact!
What should brides/grooms ask for when choosing a photographer? We think it's important to see a sample from an entire wedding, and not just the highlights. Look for consistency in lighting, composition, and quality throughout. But probably the most important thing is to look at the images and ask, "Can I see myself in these images? Does it feel like me? Does the posing look believable, or is it fake? What about my closest relationships? Are they documented in the images, or is mostly just photos of the bride and groom, and all of the details? We think asking these questions will get you off to a good start!
I'm sure I'm just scratched the surface on questions and requests to ask Leigh & Nadra…visit their site for more info here:
http://nadraphotography.com
Do you realize different children learn differently? They Do! Some children learn from reading, some from listening/hearing,
other's from visual, and other still from participation (hands on involvement.) Why is it important to know how you child learns? Because once you know what helps them learn you can help exhilarate their knowledge and grow in skills, information, & knowledge.
If your child is a auditory learner- then a camp/activity that is more lecture based will delight them Maybe a library/book club camp. If your son or daughter is a visual learner then watching/observing a sport camps like hockey is a great way to see how others play and emulate their skills on ice. If your child learns best through participation/hands on ..an art or perhaps magic camp would be an ideal fit.
In the magic camp I teach… each student has many opportunities to learn it hands on after watching me demonstrate the illusion. With props in hands they go to work, and most importantly for hands on learners, they later participate up in front of their peers (many steps of hands on during the learning of each magic trick!)
Do you have a child or 2 that learns best from participation? Take a peek at www.wizardworkshop.net for an exciting learning experience that will entice their hands, eyes, and minds all into a singular performance.
Learning the 'art of magic' used to be pasted down from magician to magician, if you didn't already have knowledge & skills you could not
find someone in the know to share info, ideas, and tricks with you.
Today's generation is quick to learn on Youtube a trick or two. The plus to that is its instantaneous, the downside is you might be learning/watching someone who isn't a good instructor/teacher. Or worse they teach incorrectly and you learn/practice the wrong techniques and now have to unlearn all the bad habits!
Learning any new skill or technique requires a good coach. Someone who not only can perform it properly, but can help other children learning the craft/sport, etc…how to improve upon what they are doing. A coach/instructor can make suggestions, offer creative ideas to improve their skills, knowledge, etc… that you can't gain from just watching a video. Children need that feedback that directly corresponds to what they are particularly doing well, or need to change so they can perform it well!
For more information on learning magic at a magic camp.. call 1-800-964-8749 or visit: www.wizardworkshop.net